Finally, I can show you the wedding quilt. Yippee! I'm very happy with how it turned out, and will give a wee bit of back story on it, interspersed with photos.
The happy couple (DH's brother Chris and new bride Rhea). Don't they look like a bridal magazine couple? They both glowed with joy and love.
Anyway, they knew they were getting an original quilt, and chose the main Bali hand dyed fabric in the pieced area. The rest of the fabrics I chose to coordinate, while ensuring adequate value variation. The borders are on two sides only for a number of reasons. The main part looked silly completely surrounded by borders. I tried numerous different borders, including some that were pieced, but the main part of the quilt rejected them all in favour of having two wide, plain borders. The end result is more restful, and also more meaningful.
I think of it as the newlyweds being represented by the pieced area: full of life, movement and interest, and ready to head out on their own (unbordered areas). The solid borders represent their faith, and their family, both of which are always there to support them and provide grounding, but also standing aside to allow the couple to make their own choices and build a life together. It is kind of an "always supported, always encouraged" thing.
The main pieced area is styled after a quilt Mom saw on display at a local quilt store. While she was admiring it, she was told that in order to make it, she would have to buy the book, and that there was only one kit left, so she would have to buy that too. Mom, ever the rebel, turned around and told the store owner (a really pushy woman, known for her bad attitude and general rudeness) that she not only wasn't interested in the kit or the book, but that in the two minutes the woman had spent telling her to buy the book, she had completely figured out the piecing, and would choose her own colours and sizing, thank you. Long and ugly sentence, but you know what I mean. So, Mom went home and improved on the design, adapting it from paper piecing (honestly, they wanted it paper pieced!) to strip quilting, and using fabrics she had at home. The end result was a simple but highly effective quilt, and a favorite of both me and her husband (he was the recipient). It gets a lot of use, and they both call it the "Didn't Buy the Book" quilt.
About the back - Chris is a huge fan of fishing, and enjoys all things fishy. Yup, that's his shoulder, complete with trout he designed. How can you not love a guy so dedicated to fishing that he wears a permanent reminder?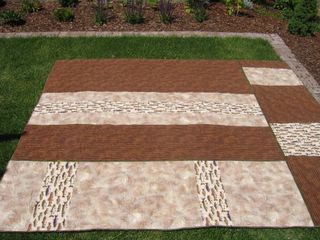 When I saw the fish flannel I knew it had to be his, but I could only get just under a yard! What to do with less than a yard of a fabric you want to feature? I cut it in strips, pieced it with coordinating flannels, and made a series of "fishable creeks" for the back. The quilt is cuddly and soft, and I finished it with a simple FMQ leaves pattern (more openly spaced than I normally use, as I wanted to maintain the softness of the quilt).
The finished product (hand finishing of binding completed 16 or so hours before the wedding) was well received by all, and promptly given a spot in the sun for a photo shoot. Unfortunately, the photo shoot required that DH and I get involved too. Here we are, in all our wedding finery. Please note that DH is very photo friendly (how could he not be - he's freakin' gorgeous - in a strong and manly way, of course), but I would rather not ever be in photos. However, for Chris and Rhea, I did the photo thing.
DebR - sorry the shoes didn't get in the photo. Chris & DH were wearing rentals (shiny and black, that's all I noticed). You've already seen my shoes from a previous post, and Rhea's shoes were white satin ballet slippers, complete with miles and miles of white silk ribbon wrapped around her ankles. However, nobody really saw them, as her dress covered them at all times.